Still Getting Our Kicks On Route 66
In 1937, Route 66 was paved and realigned through the towns of Adrian and Vega. When visiting, you will want to enjoy both versions of the Route and visit the following businesses, museums, and historic sites t as you travel through the communities of Adrian, Vega, and Wildorado.
ADRIAN, TEXAS
"Geo-mathematical" MidPoint of Route 66!
1139 miles to Los Angeles -------1139 miles to Chicago
When you're here, you're halfway there!
MIDPOINT CAFE & GIFT SHOP
The Midpoint Cafe has been continuously operating since 1928. The Midpoint serves great hamburgers, fries, their famous "Midpoint Ugly" pies (NOTHING real ugly...just real YUMMY) and other delicious dishes. The gift shop is filled with Route 66 memorabilia. A must stop for all Route 66 travelers. Owner is Dennis Purschwitz.
For more information call 806-538-6379 or visit http://route66midpointcafe.com/
THE GILES HOTEL
The Giles Hotel is a landmark in Adrian. In the early years, the Giles Hotel greeted many a weary traveler. For many years it served as the Adrian Mercantile.
Before its realignment, Old Route 66 turned north off the present road, going past the Giles Hotel, turning east on the next street and going to Vega.
THE BENT DOOR
The Bent Door was a unique 24-hour Route 66 cafe, souvenir shop and gas station. Never officially named the "Bent Door Cafe", it came to be called that because the doors and windows - recycled from an WWII Army Air Force Base watch tower - where bent. It was a bustling business during the hey-day of Route 66 and has spurred many heart-warming stories and memories. Even as it stands vacant, many people stop to reminisce and take pictures of the building.
THE SUNFLOWER STATION GIFT STORE
This precious little gift store located right on Old Route 66 in Adrian, is owned by Fran Houser. You'll find lots of unique gifts in her shop. Fran was used as a "Proto-type" in the move, "Cars," as the character Flo, Stop by to visit.
MIDPOINT CAMPGROUND
Want to stay at the geo-mathematical MID POINT of ROUTE 66? You can do it! The Midpoint Campground has 10 full spaces that include 30 and 50 amp, bathroom and shower, and a laundrymat. Daniel & Tonya Gruhlkey, Call for reservation(806) 344-6530 or check out their website here.

VEGA, TEXAS
AMERICAS BEST VALUE INN
Built in 1964s as a modern Route 66 Motel, the America's Best Value Inn is nice property still in operation. They take pride in making you feel welcome and comfortable. AAA rating, nice rooms, and outdoor pool. A favorite among Snowbirds. The Inn offers a touch of class and personal service you are sure to enjoy. For reservations call: 806-267-2131. Website: Click Here
ROOSTERS
This great little Mexican Restaurant was revitalized around 2007 and is now a local favorite with all kinds of culinary delights. It's an inexpensive and great place to unwind at the end of the day with their Happy Hour Specials. The building was originally the Nell Shell Station. Look for the BIG Rooster out front, and be sure to visit with the live Rooster oustside. Owners are Mike and Roy Rivera.
FARM AND RANCH HERITAGE MUSEUM
An outdoor display of early farming and ranching machinery and equipment donated by local families. Open all daylight hours and free admission.
VEGA MOTEL
The Vega Motel is an original Route 66 tourist court. The property is currently owned by Jack and Louise Moore and is rented out for storage and businesses like the Vega Barber Shop. Vince Gill filmed the music video to his song, "I Never Knew Lonely Before" in Vega and in the Vega Courts.
HICKORY INN CAFE
Across Rt. 66 from the Vega Motel and servin' up good food! If you're looking for a good place to eat in Texas, just follow the pickups. Local farmers, ranchers, friends, and neighbors gather for coffee, ample breakfasts, lunch specials, home-made pies, great steaks, and Hickory Inn's uniquely wonderful pizza. Jeff and Amy Pitman owners.
GRONEMAN'S SERVICE CENTER
Remember the good ol' days when you would drive into a filling station, the bell would ding and a nice gentleman would come out to your car, smile and ask, "What can we do for you?". Well, that still happens here. Groneman's offers full or self service and will get you back on the road with a smile. Although the owners have changed through the years, the location has housed a filling-station since the 50's.
DOT'S MINI-MUSEUM
A must stop along Route 66, Dot's Mini-Museum is filled with Route 66 memorabilia and western collections from Dot's many years of living, working, and collecting on Route 66. Dot enjoyed sharing her hobby with Route 66ers from around the world. We invite you to come in, sign her quest book and enjoy her collections. Located on Old Route 66, Dot's Mini-Museum is open year round. Dot lived and worked on Route 66 since 1941. While Dot is no longer with us, her spirit is alive and well at Dot's Mini Museum. Be sure and check out Dot's Boot Tree!
ROARK'S HARDWARE
Roark's Hardware is the oldest hardware store still in operation on old Route 66. You get the feeling of walking into the old general store. Now serving the needs of today, you can find construction, seed & feed, farming, and household supplies as well as gifts and toys. You're sure to hear a local story or two while there.
RESTORED MAGNOLIA STATION
The City of Vega has restored this historic filling station on Route 66 with particial funding from the National Parks Service Route 66 Corridor Preservation Program. It was the second gas station to be built in Vega in the early 20's and located on what is now US Hwy 385 south of the Oldham County Courthouse. This attraction offers a great place to picnic and an opportunity to step back in time, feel the past and learn of the great history of the area, our country, and historic Route 66. Be sure to take a photo at the Route 66 Photo Stand and check out the Quanah Parker Arrow.
MILBURN-PRICE CULTURE MUSEUM
The Milburn - Price Culture Museum is a Non-Profit organization that seeks to educate the public about the history and culture of the Oldham county area. The Museum is located at 1005 Coke Street in Vega Texas ,1/2 block west of the Old Magnolia Station, just off of Old Rt 66. Phone: 340-5510 E-mail: gconn1869@gmail.com Follow them on
Facebook.
OLDHAM COUNTY COURTHOUSE
Located on Highway 385, the Oldham County Courthouse was built in 1915 by Architect O.G. Roquemore in the Classical Revival Style.The original hipped roof was removed in 1967 and an addition was built onto the north side of the building and the jail is attached to the south side. Visitors are welcome during business hours.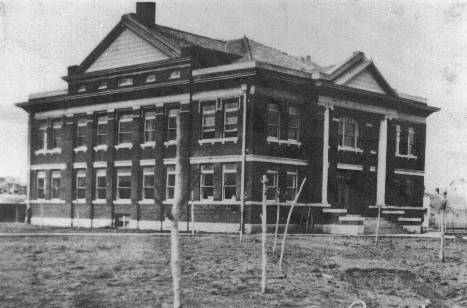 THE ACACIA TREE
The Acacia Tree is the place to get all your floral designs. At the corner of Main and Hwy 385 near the Oldham County Courthouse, the shop is filled with wonderful smells, treasures, and unique gifts. Sherri Greer, owner.
BONANZA HOTEL
Serving Route 66 travelers since the 1950s, the Bonanza Motel is a true authentic place to stay.
WILDORADO, TEXAS
When the Interstate was built through Wildorado, all the businesses along one side of the Route were completely destroyed to make way for the new super highway. Although small, Wildorado has a special western charm with an amazing Elementary school system.
ROYAL INN MOTEL
One of the last original 66 businesses in Wildorado, the Royal Inn still offers a great night's rest for Rouet 66 and I-40 travelers. You will find them to have great personal service and very reasonable rates.
A BIT OF HISTORY: TRAIN DEPOT AND FARMER'S ELEVATOR
Rt 66 ran just in front of the old railroad station and farmer's elevator. This picture, taken during the harvest of 1929, shows wheat stockpiled on the ground near the old train depot. These structures can still be seen in Wildorado. The depot has been moved one block north of this site on private property and is currently for sale. Agriculture has been and continues to be the major industry for Oldham County.
WE ARE PROUD OF OUR LITTLE PIECE OF ROUTE 66 IN OLDHAM COUNTY!